Employment Forecast (NAP ZAP)
The purpose Employment Forecast is to enable short-term forecasts of labor market trends in Slovenia. The survey of employers is based on a representative sample of possible short-term forecasts of employment trends and the difficulties employers have at finding suitable candidates for the vacancies. Survey contributes to comprehensive information intended to job seekers and employers, better coordination between supply and demand in the labor market and thereby faster transition of unemployed people into employment.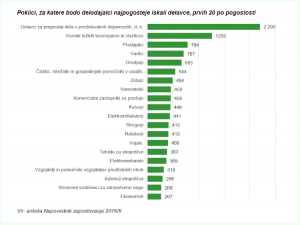 The results of the survey have been permanent data source since May 2012, when the legislation on the field of labour market in Slovenia had changed and have been carried out twice a year. They are a basis for:
a) short-term activities, such as basic activities of ESS – Employment Service of Slovenia (job placement, cooperation with employers, etc.) and a short-term forecasts of demand and supply of qualification;
b) medium-term activities, such as the preparation and implementation of active labour market policy measures (training and education programmes etc) to tackle the structural imbalances on the labor market, preparation of system solutions to solve structural imbalances on the labor market (support the intrest for training and education programs that have a long-term perspective on the labour market, etc.) and preparation of activities that will prevent the long-term unemployment and potential social exclusion.
https://procsee.eu/wp-content/uploads/sites/25/2016/04/PROCSEE-Logo.jpg
0
0
Ergun Echo
https://procsee.eu/wp-content/uploads/sites/25/2016/04/PROCSEE-Logo.jpg
Ergun Echo
2019-01-31 16:28:31
2019-01-31 16:28:31
Employment Forecast (NAP ZAP)