ESTG-IPP Business Challenge
The ESTG-IPP Business Challenge is a 4 days´ hackathon where mixed teams composed of Students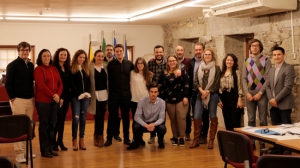 from EQF levels 5, 6 and 7, Lecturers and Researchers from the School of Technology and Management of Politécnico do Porto, develop ideas and/or prototypes for innovative solutions to real problems identified and presented by companies.
This type of dynamics aims not only to bring the school closer to the business ecosystem of the region, but also to develop some of the skills most sought by employers such as the ability to communicate, teamwork, problem solving and critical and innovative thinking.
The video below is a short interview (in Portuguese) with the managers of Fábrica Souto, one of the companies who presented a real problem – what to do with leather scraps from their shoe manufacturing plant – which was solved during one of ESTG-IPP Business Challenges. Winning team on the picture above.
https://procsee.eu/wp-content/uploads/sites/25/2016/04/PROCSEE-Logo.jpg
0
0
https://procsee.eu/wp-content/uploads/sites/25/2016/04/PROCSEE-Logo.jpg
2018-06-05 23:32:56
2018-10-08 17:48:30
ESTG-IPP Business Challenge