Developing Professional Skills: the Academy of European Public Law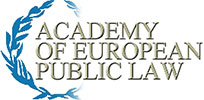 Founded in 1995, the Academy of European Public Law has been at the forefront of European public law teaching for over twenty years and is the oldest and most esteemed educational establishment of the "European Public Law Organization" (EPLO), and the most representative of its mandate. The EPLO has been entwined with the development of European Public Law, and the emergence of the EU as a new legal order in international law.
The Academy offers study sessions leading to the Intensive International Master of Laws (I.I.L.L.M.) in European Public Law or the Certificate of Attendance in European Public Law for those interested in furthering their knowledge and skills on the reasoning and philosophy of the different national public law systems of European countries, as well as the divergences among them. The study sessions are conducted during the months of August and September on an annual basis at the premises of the EPLO in Athens and Sounion and have a 3-week duration.
https://procsee.eu/wp-content/uploads/sites/25/2016/04/PROCSEE-Logo.jpg
0
0
https://procsee.eu/wp-content/uploads/sites/25/2016/04/PROCSEE-Logo.jpg
2018-06-09 08:34:02
2018-09-20 10:47:22
Developing Professional Skills: the Academy of European Public Law