E-learning platform: Moodle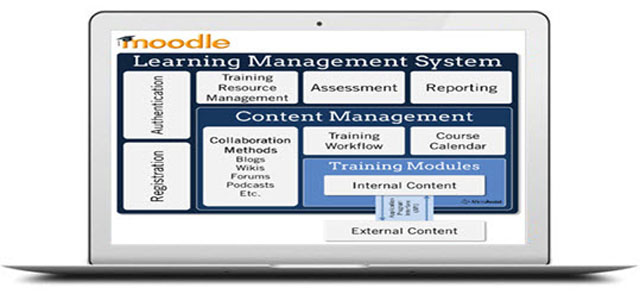 According to the Romanian regulations in the field (Order no. 6251/2012), distance learning must consist in a mandatory combination of online teaching and face-to-face tutorials. In order to efficiently manage the online courses, the National University for Political Studies and Public Administration, Bucharest, Romania, has found a solution to integrate the platform Moodle. Moodle is a free, online Learning Management system enabling educators to create their own private website filled with dynamic courses that extend learning, anytime, anywhere. It fosters engagement and encourages content-driven collaborations between students and professors.
MA students who have professional engagements that prevent them from attending courses on a daily basis can enroll in low-attendance programmes. With the use of the e-learning platform, they have access to:
An online forum for live seminars
An online evaluation system
A permanent forum for discussion and FAQ
An online system for evaluation of projects, applications, exercises, and tests
An online system for processing information regarding their online attendance of seminars/courses and their individual progress
The platform is employed by the faculty and students of the following Masters programmes:
MA in Communication and Public Relations
MA in Managerial Communication and HR
MA in Project Management
MA in Management and Business Communication
The features of the e-learning platform Moodle that increase the flexibility of long-distance learning include, but are not limited to:
Modern, easy to use interface, easy to navigate on both desktop and mobile devices.
Personalized Dashboard that allows administrators to organize and display courses the way they want, and view at a glance current tasks and messages.
Collaborative tools and activities: forums, wikis, glossaries, database activities.
All-in-one Calendar
Convenient file management
Simple and intuitive text editor, allowing users to format text and conveniently add media and images with an editor that works across all web browsers and devices.
When enabled, users can receive automatic alerts on new assignments and deadlines, forum posts and also send private messages to one another.
Messaging capabilities
One of the most important aspects of using Moodle is that it offers many options for assessing progress in learning, as follows. During online courses – through the use of the forum, the lecturer directly engages with the students and is able to ask questions and receive answers, thus assessing their level of knowledge (live). Every course has its own Grade book. Some activities such as Assignment and Quiz send grades back to this grade book. It is also possible for teachers to enter grades directly into the grade book. If Activity completion is enabled by the administrator and in the course settings, teachers can indicate for each course item how they wish it to be registered as complete. A tick/check mark will then appear against the activity. Students may either mark it complete manually or the item will automatically be registered as complete once a student has met the specified criteria. As an extension of activity completion, enabling Course completion allows for a course to be officially marked as finished, either manually or automatically according to specified criteria.
A number of Course reports are available to the teacher in their course to help them track the progress of their students. In addition to the activity and course completion reports mentioned above (which are only available if these settings are enabled) there are also activity reports, participation reports and general course logs.
https://procsee.eu/wp-content/uploads/sites/25/2016/04/PROCSEE-Logo.jpg
0
0
michela
https://procsee.eu/wp-content/uploads/sites/25/2016/04/PROCSEE-Logo.jpg
michela
2018-06-09 09:45:29
2018-09-20 10:44:51
E-learning platform: Moodle